Book: The Digital Workforce - Jarrod McGrath
Purchase direct by contacting us.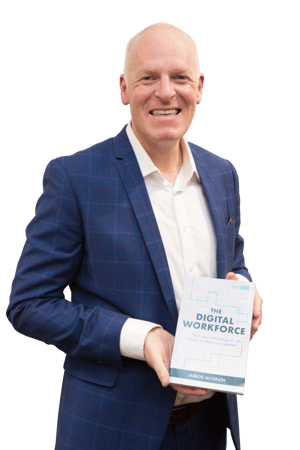 Testimonials
"The Digital Workforce is a must-read for anyone looking to capture the value of their workforce from a business impact point of view… This five-step process has become the bible on how to lead any workforce management initiative."
– Jason Averbook, CEO, Leapgen
"Jarrod is extremely knowledgeable in all things workforce management and yet still craves the new and the unknown to continue to push the boundaries in this area."
– Georgegina Poulos, Global Director People, T2 Tea
"Jarrod McGrath and his organisation, Smart WFM, are passionate members of Pledge 1% (pledge1percent.org) – a global movement that encourages and empowers companies of all sizes and stages to integrate giving back into their DNA. I applaud Jarrod for supporting the Cathy Freeman Foundation and thePledge 1% movement with a portion of the proceeds from his new book The Digital Workforce. The 5-step methodology to smarter workforce management."
– Scott Farquhar, Co-founder, Atlassian
The Digital Workforce
Many businesses are being challenged by the convergence of technologies, such as artificial intelligence (AI), robotics and the internet of things (IoT). In The Digital Workforce, Jarrod shares a 5-step methodology that you can implement in your business to embrace the new world of the digital workforce management (WFM). Smarter workforce management can positively impact profitability, employee experience, customer experience, compliance, brand stickiness, organisational maturity and overall business maturity.
JARROD MCGRATH is one of a handful of visionary WFM leaders who can articulate the strategic value of WFM within a business from the executive level through to the operational coalface. Jarrod is the founder and CEO of Smart WFM, a boutique consultancy dedicated to empowering the workforce now and into the future.
Purchase direct by contacting us.