As the curtain lifts on 2017, it's an interesting time to pause and consider on what lies ahead for the world of WorkForce Management?
Prior to Christmas Albert Pang founder of 'Apps Run The World' published his breakdown of the WFM global facts and figures. I was pleased to see Albert correctly representing WFM as a core component of HCM, which many other industry commentators have failed to do in the past. In his report, Albert also broke down predicted WFM revenues globally, between 2015-2020, across the areas of license, maintenance and subscription revenue and as you can see below, it makes for very interesting reading.
WFM revenue makes up 24% of overall HCM Market,
Actual WFM revenue $3.6B in 2015,
Forecast WFM revenue is $4.6B by 2020, with a
Compound Annual Growth Rate (CAGR) of 8%.
The rapid growth of WFM comes as no real surprise to those of us in the industry, who have watched the slow but inexorable move of WFM from the back office to the front office in recent years.
HCM Market Taxonomy (Apps Run The World)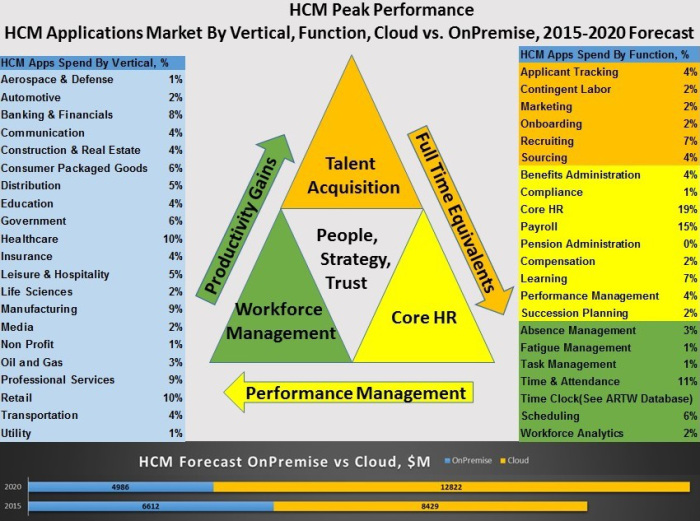 As as the Taxonomy Infographic clearly demonstrates, WFM sits at the intersection of performance management and productivity gains in many organisation. Why is this the case? WFM has strong ties to the operational workforce (via operational / middle management) providing a complete link between the business executive, HR and talent on the ground.
In a recent article published by the Workforce Institute the authors highlight that focussing on middle management will be key in 2017 to ensure companies perform optimally.
It is often said that employees join companies, but leave managers. 2017 will see a renewed focus on giving people managers – many of whom are Millennials managing for the first time – the skills, abilities, tools, and technologies needed to develop connections with their employees, nurture top talent, and execute the organization's vision on the front lines.
This simple Infographic struck me, as I realised now is the time for WFM to take centre stage globally, if businesses are really serious about improving the employee experience. From a WFM perspective I believe the following are the key items that will begin to occur in 2017 to enable this new 'Future of Work':
Fusion of WFM and HR initiatives

to facilitate complete employee engagement & experience. Both WFM and HR must work together to understand each others purpose to bridge the gap between the executive, HR, operations and the broader business value chain. Agile methods will be required to prioritise, educate and deliver these combined initiatives enabling focus and accelerated delivery of business benefits. Digital transformation will be a key requirement.
"Niching" across software vendors & talent

will take place providing a focussed mix of tools and skills to derive value. Software vendors will further niche in areas such as industry while adopting the latest technology, such as AI to support this. Talent to deliver and support these initiatives will become concentrated into global pools allowing service staff and clients to leverage knowledge in a far more collaborative and simplistic way then we have experienced previously.
Ensuring the correct Functional and Technical Architecture

to deliver WFM and HR initiatives successfully. Functions and Technologies across WFM and HR and the broader business value chain must be examined collectively. This will ensure a single data model and single process across the various operational business areas / platforms allowing complete employee engagement & experience.
From a personal perspective, my own WFM journey will continue in 2017 also, as I continue my quest to analyse and explore the global WFM market, seeking out new technologies, understanding industry trends and helping to broaden the global WFM network. In parallel, I'll be launching my new business Smart WFM a Strategic Advisory firm targeted at helping businesses transition to the new Future of Work with WFM front and centre. More on this to come...
Finally, a quick word of thanks to Arjan Spuijt, CEO of PlanMen for making himself available to catch up recently in Utrecht, to discuss all things WFM. During lunch we covered the global impact of WFM, raising the profile of the industry, educating WFM practitioners, better engaging with customers, future innovations and much more. I value the openness and mutual curiosity of people like Arjan and other WFM Innovators from around the world and look forward to many more working lunches of this kind in 2017.
My Vision for the Future of Work
"Think globally, while acting locally to embrace family, community and the environment. This will allow business to reach new heights, increasing value within the workplace of tomorrow"
Jarrod McGrath
If you'd like to find out more about the world of WFM or how to unlock it's potential in your business, feel free to reach out and connect.
+61412901117, @jmcgrathau, jarrod@smartwfm.com.
My other Linkedin posts can be found here. Also published on Linkedin, January 31, 2017